MIL-STD-810F
Humidity | Altitude | Sand and Dust |
Shock and Vibration | Temperature
MIL-STD-461E
RE101 | RE102 | CE101 | CE102 | CE103
MIL-STD-882D
MIL-STD-1472F
MIL-STD-1474D
MIL-STD-1399-300B Type I
MIL-STD-1275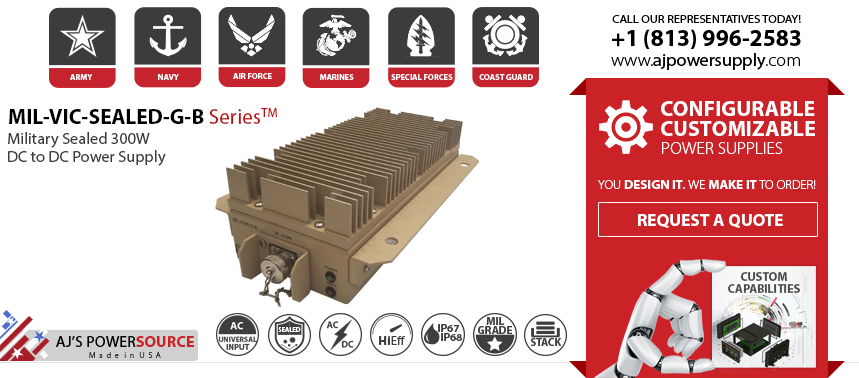 The Military Sealed 300W DC DC Power Supply series is a Rugged, Environmentally Sealed family of COTS Power Supply
The MIL-SEALED SeriesTM is an Environmentally Military Sealed 300W DC DC Power Supply family that provides High Reliability with COTS availability and affordability in a product that performs under extreme conditions even submerged under water!
The MIL-VIC-SEALED-G-B from AJ's Power Source Inc. is an Environmentally Sealed, Military Qualified, Compact, High Efficiency COTS Power Supply designed for use in Critical Applications where dirty/dusty conditions and water ingress is a concern. The IP67 Ingress Protection rating and fanless cooling allows for highly reliable operation under the most adverse conditions. Military Sealed 300W DC DC Power Supply
Our newest product is a 300 Watt 28VDC output unit available with an DC input to run from Military Vehicle Power (per MIL-STD-1275) or Battery Power. The power supply will safely power critical systems while filtering voltage spikes and dropouts typically seen where power quality is poor. With a compact form factor and light weight, the power supply can easily be integrated into existing equipment or mounted externally. The MIL-VIC-SEALED-G-B generates less heat than comparable power conversion devices facilitating outstanding thermal management resulting in very high reliability and the smallest package available for a product of its type.
Highlights
Sealed enclosure, IP67 ingress protection
High Efficiency with Natural Convection Cooling
Input voltage range of 20-33VDC per MIL-STD-1275
300 watt max power
28VDC output (additional output voltages available – contact the factory!)
-40 to +65°C operating temperature with no derating
Certified to MIL-STD-461F & MIL-STD-810G
MTBF 100,000 hours per MIL-HDBK-217
Dimensions: 11.0"L x 5.0"W x 3.7"H
Weight: 7lbs