MIL-STD-810F
Humidity | Altitude | Sand and Dust |
Shock and Vibration | Temperature
MIL-STD-461E
RE101 | RE102 | CE101 | CE102 | CE103
MIL-STD-882D
MIL-STD-1472F
MIL-STD-1474D
* Units are designed to meet these standards but, each unit must be tested at system level. Shielded cables and line filters required. Read more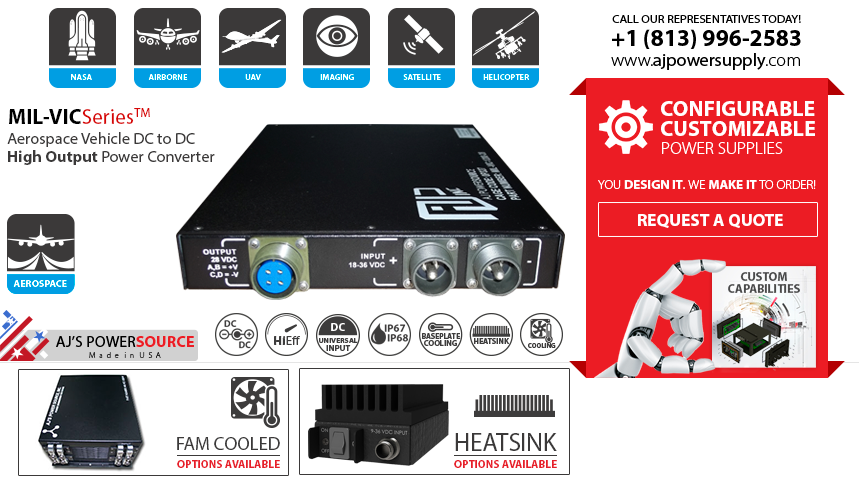 Aerospace MIL-STD-704 DC Converter High Output Power Supply. Designed for F35 Lightning, AC 130, Firefox, Apache, Black Hawk, Chinook, Comanche, SeaHawk & more
The AERO-VIC SeriesTM is an Aerospace DC to DC High Output Power Converter. Designed for F35 Lightning, AC 130, Firefox, Apache, Black Hawk, Chinook, Comanche, SeaHawk & more.
The AERO-VIC SeriesTM is a ruggedized Aerospace compliant DC to DC systems built for deployment and operations equipment. This series is available to all Aerospace, homeland security and government contractors. Light weight and built for reliability, these fully ruggedized systems are ready for world wide deployment.
The AERO-VIC SeriesTM provides 24 VDC Aerospace (MIL-STD-704) compliant input (9-36 or 18-36VDC Range) power with a multitude of output possibilities to include custom systems as required. These systems have internal surge suppression and wide temperature ranges. The AERO-VIC SeriesTM is available in both chassis mount and Rack mount Configurations.
Our overall concept consists of aluminum sealed case with thermal dispersion via the bottom of the chassis through conduction cooling (Can also be configured with an external heat sink). The other option is an internal fan design for power supply cooling (shown in the picture below). This unit will be designed as a ruggedized Aerospace power system. It has an input range of 9-36VDC or 18-36VDC and is designed with a multitude of regulated outputs as shown in the table below. The input/output will be provided via a Aerospace Circular Connector or bus bars for larger power options. This power supply is designed with weight and size in mind.
Highlights
• Universal DC Input Voltages (9-36VDC & 18-36VDC)
• Power Ranges from 200 – 2400 Watts
• High Efficiencies
• High Temperature Ranges
• Standard mechanical enclosures designed for all environments
• Optional IP67 IP68 Submersible chassis
• Configurable for short lead times
• Industry standard connection points
• Cooling: Conduction Cooled/ Heatsink / Fanned Designs
• Very Low Weight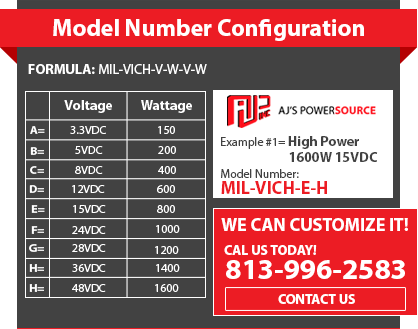 DC Input Voltage: 18-36VDC (9-36 VDC Available)
DC Output: Multiple outputs
Operating Temperature: -20C to 100C (max)
Storage Temperature: -40C to 125C(max)
Overload Protection: 110 to 180% of full load
Total Output Power: 200-2400 Watts (depending on input voltage)
Efficiency: Up to 93%
Line Regulation: 0.2% for 10% Line Change

Load Regulation: < +/- 1% Ripple: 2% of Output Voltage
Current Limit: Over Current & Short Circuit Protection
Physical Dimensions: Depends on Power Output
Connector: Circular Connectors
Weight: Est. 2-12LBS
Over Voltage Protection: Depends on Output Voltage
Set Point Accuracy: < +/- 1%

Welcome to the AJ's Power Source Inc. Download Center. Find the latest downloads and documentation for our Product Catalog, including: Mechanical Drawings, Cut Sheet, Data Sheet and 3D Renderings.

Fill this form with your contact information, the product you are interested in and the required file. Submit your information, and one of our experienced representatives will email you the required files as soon as possible.

If you have more questions concerning our Product Catalog or Data Center, please call our office today! We will be glad to help you.

1 (813) 996-2583

For more information Contact Us

Coming soon!
Please, come back later or Contact us