MIL-STD-810F
Humidity | Altitude | Sand and Dust |
Shock and Vibration | Temperature
MIL-STD-461E
RE101 | RE102 | CE101 | CE102 | CE103
MIL-STD-882D
MIL-STD-1472F
MIL-STD-1474D
* Units are designed to meet these standards but, each unit must be tested at system level. Shielded cables and line filters required. Read more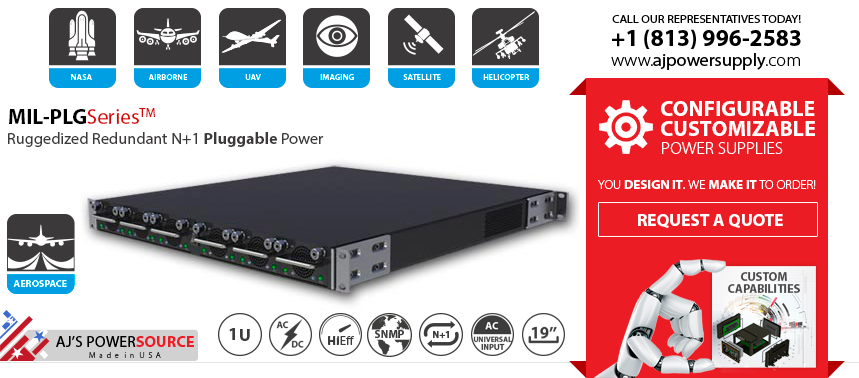 Aerospace Ruggedized Redundant N+1 Pluggable 1U 500 to 3000 watts Rugged Power Supply
AJ's Power Source Inc. is pleased to announce the release of our new AERO-Plug SeriesTM. This new power supply has just been added into the AERO-Series Product Line and is a Ruggedized Aerospace compliant pluggable power supply system built for deployment and operations equipment. These units are available to all Aerospace, homeland security and government contractors. They are built for a Very Low EMI signature and very High Reliability. This ruggedized power supply system will keep your product up and running for many years to come.
The AERO-Plug SeriesTM is a 1U rack mount, single output voltage, rugged pluggable power supply system that provides up to 1500 Watts N+1 or 3000 Watts non-redundant. Each plug in module has hot swap capability and is field replaceable. It comes with N+1 redundant power or standard multiple outputs.
The Aerospace Rugged Redundant N+1 Pluggable Power Supply Has Unique Features Designed to Meet All the Aerospace Standards. Single or Three Phase Options.
This system has many unique Features such as over voltage, over current, over temperature and short circuit protection. It has remote monitoring and remote control embedded into each power supply system. Stainless steel slide rails allow for multiple rack depths.
Aerospace Ruggedized Redundant N+1 Pluggable Power Supply is fully customizable to suit your needs. Call our office today! (813) 996-2583
AJPS's has been supplying high end Aerospace Transformers Power solutions to the NASA, Airborne, UAV, Imaging, Satellite and Helicopter for over 20 years. All of AJPS's operations are monitored and controlled by an ISO 9001:2000 based quality systems. To learn more about our custom capabilities please, Contact us online or call our main office at (813) 996-2583 our experienced Representatives will provide you a custom Quote for your custom power requirements.
Military Rugged Pluggable Power Accessories:

MIL-PLG-12P 12 V
MIL-PLG-24P 24 V
MIL-PLG-28P 28 V
MIL-PLG-48P 48 V

MIL-PLG-CB1A
6.5 Feet Long
3 x 14 AWG
IEC320/C19 to NEMA 5-15P

MIL-PLG-MB1A
Set of Four
Stainless Steel